Orthodontics at Bridge Rd Dental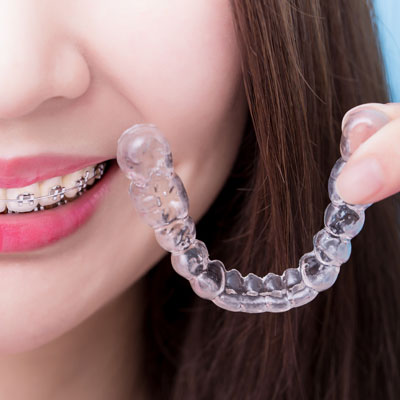 Teeth straightening allows you to optimise the aesthetic appeal of your smile. It can also lower your risk of complications related to tooth wear, gum disease and dental decay. By investing in an orthodontic system such as clear aligners, traditional braces or an Inman Aligner system, you can enhance your smile's appearance while improving your oral health in the future.
Our practice offers three different types of orthodontics, allowing us to serve all generations of your family.
Inman Aligners
Inman aligners are removable devices that allow you to quickly straighten crooked front teeth. If you have a generally properly positioned bite but a few misaligned teeth causing aesthetic issues, Inman Aligners may be appropriate. The best part is that they can work in as quickly as 2.5-3 months! Wear them for 18-20 hours a day, removing them during meals or to brush and floss.
During your Inman Aligner consultation, we'll take a scan and send it to the lab. They'll process your digital information to create a virtual preview of your prospective treatment outcome. That way you know what to expect before the process even starts.
SmileTru Clear Braces
SmileTru is a popular invisible braces option that works similar to Invisalign orthodontic aligners. With SmileTru you can enjoy a translucent, removable treatment that's practically invisible to everyone around you. Like Invisalign, SmileTru is appropriate for adults of all ages, as well as teens.
With SmileTru you can predictably map out your tooth alignment using a digitally designed treatment plan. After the initial photos and impressions are recorded, we send your data to the lab for processing. A short time later, they'll return a proposed digital care plan that shows your tooth movement on a month-by-month basis. When you're ready to get started, we can order your aligners and take it from there! Simply wear them as directed and enjoy straighter teeth.
Traditional Orthodontics
Conventional braces can be used while your child's bite is still developing or later on after all of the adult teeth have erupted. In the latter, it may be necessary to extract teeth to create room in the mouth. If not, we may be able to use interdental stripping to create a small amount of extra space between your teeth, allowing room to move them in the same spot instead of projecting them forward.
With traditional orthodontics, it's possible to correct a variety of issues like crooked or jutted-out teeth. However, a combination of appliances such as palatal expanders may be required for comprehensive results.
When children are young, their mouths are still developing. Early intervention makes it possible to address jaw and skeletal growth patterns in a way that encourages proper tooth alignment and position. For instance, it's possible to expand the palate (roof of the mouth) to widen their jaw and naturally create extra room for teeth.
This process minimises crowding and impacted teeth, so that extractions aren't needed once the child gets older. It's a healthier and less-invasive solution for your child's developing smile.
Enjoying straighter teeth doesn't have to break the bank. In fact, a properly aligned bite can reduce your risk of dental problems in the future. Our office is happy to provide flexible payment plan options that fit just about anyone's budget!
Reserve Your Consultation Today
For a custom orthodontics Richmond treatment plan, contact our office today.

Orthodontics Near Melbourne Cricket Ground, Richmond VIC | (03) 9429 6020