About Us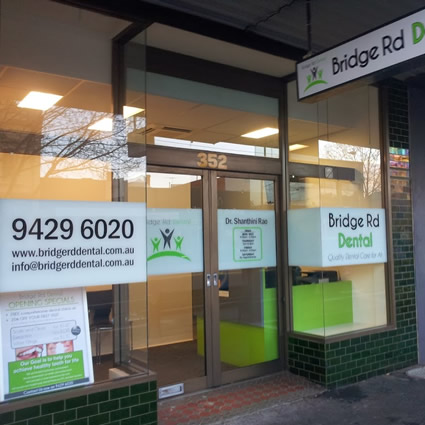 At Bridge Rd Dental, it is our philosophy and purpose to provide quality dental care for all patients. We've been part of the Richmond community for over 8 years now. Dr Shanthini has been serving patients quality dental care for over 20 years.
Our practice features a relaxed, friendly atmosphere so you feel comfortable and at ease when you visit us. Along with state-of-the-art technology and an experienced team, you're in the best hands for your dental care.
Dr Shanthini and her team believe a patient shouldn't come back with the same problem on the same tooth – when we do the job once, we do it well!
We are proud to be efficient and quick to help nervous patients, without compromising on quality. We've worked with even the most nervous patients who have had positive experiences in our practice.
Features and Services
Our modern practice features general dentistry services, cosmetic dentistry and more advanced treatments such as orthodontics and invisible braces. We also work with children and provide an array of children's dentistry services to keep their teeth healthy from young.
The team at Bridge Rd Dental have treated many patients in the local community and surrounds, who have walked out with a happy and confident smile. Whether you are looking to maintain your oral health or to make the most of your smile, we provide professional, caring dentistry of the highest quality.
MEET THE DENTISTS

Health Funds Accepted
Contact us to book your appointment. We offer no-gap checkup and cleans for eligible insurance holders. Saturday appointments available. Call today!

About Bridge Rd Dental | (03) 9429 6020