Dr Shanthini Rao (Dentist)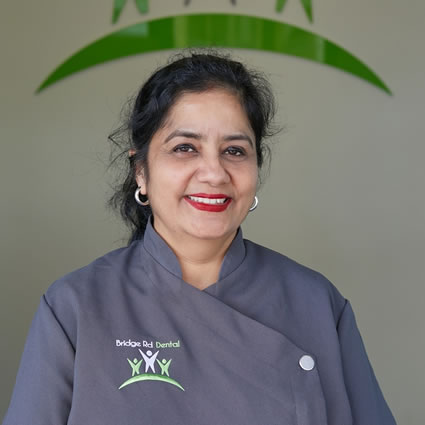 Dr Shanthini Rao is our friendly principle dentist at Bridge Rd Dental. Dr Shanthini graduated in 1994 in India and went on to complete her Australian Dental Examination Certificate in 2000. She is inspired by doing an excellent job for her patients and having an eye for detail and design. Dr Shanthini begun practicing as a dentist in 2001 and has been serving the Richmond community for over 8 years.
Providing Exceptional Dental Care for Families
Dr Shanthini loves providing quality dental solutions for the entire family. She takes pride in educating her patients during their visit, so they understand the importance of oral health hygiene practices.
With a passion for doing an excellent job and a good eye for detail, Dr Shanthini loves the challenge of making smiles look really good, even in the most challenging cases.
Education and Training
Dr Shanthini is a member of the Australian Dental Association and attends progressive orthodontic seminars. She also is an accredited provider for SmileTru, ClearSmile aligner, Inman aligner and holds her One-Visit-Crown (OVT) certification. With 20 years industry experience, you're in the best hands for your dental care.
Dr Shanthini has a keen interest in rotary endodontics (root canal treatment), orthodontics and oral surgery. She constantly keeps updated in the latest developments in dentistry through seminars and workshops.
Dr Shanthini Rao has undertaken further training in the field of orthodontics and holds a Progressive Orthodontics Certificate which is awarded upon completion of a comprehensive 2-year program designed for general practitioners.
EXPLORE OUR SERVICES
Outside of the Practice
When not in the practice, Dr Shanthini enjoys quality time with her two older children. She is actively involved with a local charity and church organisation. She loves spending quality time with family and friends. Get to know Dr Shanthini on your next visit!

Dr Shanthini Rao (Dentist) | (03) 9429 6020