Dentures at Bridge Rd Dental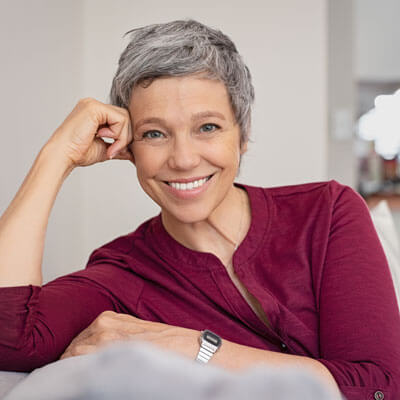 Are you missing multiple teeth throughout your mouth? If so, dentures might be the best option for restoring your smile. Our full and partial denture designs replace all of your teeth with a single removable prosthesis (per arch, respectively.)
Dentures are one of the most affordable and efficient options to restore your smile, especially if you need to have several teeth extracted.
Types of Dentures
Dentures are made of a durable plastic material. Some also have bases (frames) that are designed out of cobalt chrome to make them more durable. However, the teeth are still plastic.
Generally speaking, there are two types of dentures: full and partial. A full denture restores all of the teeth in the arch at one time. A partial denture replaces all of the teeth in the arch that are missing but fits into place around the remaining healthy teeth, preventing extractions.
Designing Your Dentures
Each of our dentures is made in a lab. To ensure the highest level of accuracy, we'll schedule at least a few different appointments for impressions and fittings. Throughout the process we'll also have a wax-up created, so that you can preview what the finished results will look like.
Dr Shanthini Rao (Dentist) will use the wax-up to adjust the height of the teeth and aesthetic characteristics. When both you and Dr Rao are happy with the proposed design, we'll take a final set of impressions and have the final denture created in the lab.
Although dentures are meant for replacing missing teeth, they also support your soft facial tissues. It's important for their measurements to be just so, so that they help your face and bite look youthful and attractive.
Getting used to a new denture can take a bit of time and patience. In the beginning, it's fairly common to experience a bit of discomfort or pinching. We recommend eating softer foods and cutting your meals up into smaller pieces for the first few weeks. With time and practice, you'll get used to your new denture. Dr Rao recommends thinking of the adjustment process like breaking in a new pair of shoes or pair of classes; the transition isn't immediate. But with time and perseverance, you'll be comfortable and confident with your new smile!
A denture is usually preferred over dental implants if there are concerns like bone quality, budget issues or multiple teeth to replace at one time. Although implants provide a more long-term solution for restoring teeth, they are not feasible for everyone. Dr Rao will discuss the advantages of each option during your consultation, so that you can make an educated decision about which one is best for your lifestyle.
It's important to not sleep in your dentures, as it could lead to gum infections or changes in the shape of your bone. We recommend storing your denture in a closed box or container, out of reach of children and pets.
Clean your denture regularly with room-temperature water and soap. Do not use hot or warm water, as it could warp the materials. Every three months soak your denture in a 1:4 vinegar to water solution overnight, then brush it thoroughly the next morning. Don't soak it in the solution every day as it's not good for the materials. However, dentures can get tartar buildup too, so regular maintenance is crucial.
Reserve a Consultation
For custom dentures Richmond, contact us today.

Dentures Near Melbourne Cricket Ground, Richmond VIC | (03) 9429 6020