Emergency Dentistry at Bridge Rd Dental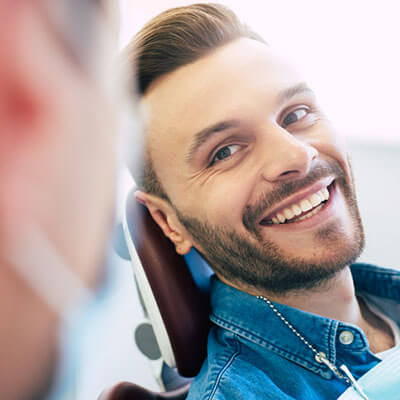 When you have a toothache or broken tooth, you need a family dentist that you can see the same day. Our practice is open to providing fast emergency treatments to new and existing patients alike. So, if you're in pain and need to see a dentist straight away, we encourage you to call.
Common Dental Emergencies
Bottom line, our first priority is to get you out of pain and keep you comfortable. Secondly is to save your smile. Depending on what type of emergency you're experiencing, here are some of the most common issues that we treat:
Broken Tooth
Chipped teeth can usually be repaired with bonding, a crown or have the broken fragment attached with a special type of dental cement. The key is to get treatment straightaway, before the fragment dries out. Store the tooth in milk, saline or saliva if possible. If the crack reaches down into your nerve, a root canal may be necessary. If you're someone who is actively involved in sport, we may recommend investing in a custom mouthguard so as to prevent additional injuries.
Knocked-Out Tooth
Store your tooth in a sealed container, so as not to misplace it. Cover it with a liquid such as milk or contact solution. If neither is available, tap water with a pinch of salt will work fine. Get to our office within the next 1-2 hours (the sooner, the better). Reimplanting the tooth may be possible. If you can, you may attempt to reinsert it on your own before you get to our office. Just be sure not to force it or touch the root in any manner. Doing so could affect the success of the reimplantation process.
Broken Filling or Crown
Older or cracked restorations can sometimes break off of teeth or cause the tooth in that area to chip away. Try to avoid chewing on that side of your mouth, as extra pressure may lead to additional breakage. We can discuss replacing your filling or provide a temporary restoration if a new crown is needed.
Tooth Pain or Sensitivity
Toothaches can be extremely painful. Sometimes the discomfort is so severe that it's necessary to take the tooth out on the same day. In other cases, we can address the source of pain and save your tooth. Hypersensitivity to certain foods or temperature changes can mimic tooth pain but may only be due to something like gum recession. We'll help you determine the cause of your discomfort and identify a minimally invasive solution to reverse it.
Dental Abscess
An abscessed tooth can be extremely painful or not hurt at all. The abscess on the gumline typically comes and goes, depending on how much swelling there is. Fortunately, a gentle root canal treatment can eliminate the source of infection and preserve your tooth (preventing an extraction).
Fast Pain Relief
We strive to do everything possible to get you out of pain quickly. When you're comfortable, we can talk through what's going on and discuss the type of treatments available. Depending on your needs, we may be able to start treatment the same day or provide an interim solution. We'll review all of the options with you so that you can play a direct role in your oral health.
In Pain? Call Now!
For emergency dentistry Richmond contact us today.

Emergency Dentistry Near Melbourne Cricket Ground, Richmond VIC | (03) 9429 6020